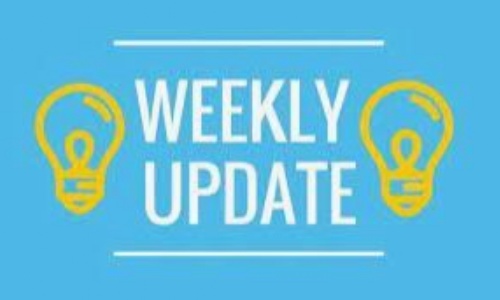 Weekly Update 17th June 2022
Year R
How quickly did this week go? We started our new text of 'The Lighthouse Keeper's lunch' on Monday and we have been internalizing it and creating a story map for this. We also learnt two new sounds – 'aw – yawn at dawn' and 'are – care and share'. In maths we have continued to make, and solve subtraction number sentences. We have been incredibly lucky to have had two dance workshops this week, the first was based on toys and the second was to celebrate the commonwealth games, we were New Zealand and learnt the 'Hakka'. In science we have been learning about and experimenting with things that float and things that sink. On Thursday we had a 'Crafty Cuppa' which was wonderful, we made some wonderful parrots. To finish the week we had French Day where we learnt some French words, numbers and even tried a croissant.
Year 1
Another lovely week in year 1! We have enjoyed two special dance sessions this week, one where we learned a traditional Welsh dance. We received a letter from a Polar bear this week persuading us to stop wasting electricity as the ice caps in the Arctic where he lives are melting. We have been looking lots in Science at different ways to take care of the Earth as well, this week we learned about logging and ways we can reduce it like cutting down on the amount of paper we use and recycling. We have decided to write a letter to the school to persuade people to stop dropping litter as we saw some in the chicken coup on Monday. In Art we have continued to look at architecture and we looked at the rose window feature of Westminster Abbey and then made our own! In Computing, we enjoyed learning how to log on and off of a laptop!
Year 2
Another wonderful week in year 2! We have enjoyed a very special dance sessions this week, where we learned a traditional English dance and performed out Morris dancing too. In English we are working hard to recite poetry, using expression in our voices and actions too. In maths we have almost secured telling the time using o'clock, half past, quarter past and a quarter to. Please encourage your child to read the clock times at home. In Art we have looked at the use of different materials and textures to provide a desired effect, making masks which will come home next week. In music, the children have listened to UB40s "Kingston Town" as part of their continuing focus on Reggae style music and their singing of the new song we are learning is sounding great. We will finish our Initiative focus in PSHE today by talking about self-motivation.
A huge well done to the children that have achieved Free Reader in Year 2 over the past couple of weeks. We will continue to assess the class before they transition up to Year 3 with Mrs Preston.
The weather has been exceptional today, we have reiterated the need to stay safe in the sun and the children have thoroughly enjoyed being outside when we could.
Have a fabulous weekend.
Year 3
We have had a really productive week in Year 3 this week. We have begun learning about angles in maths and have been identifying acute, obtuse and right angles. We have also been making and using right angle turns. We have been planning our own adventure story in English. In science we had a go at making items that use levers and linkages. We found out about Sir Francis Drake in history. We had a fantastic afternoon using Scratch and beginning to write code in computing. The children have been practising their athletics skills in PE. And today we are having a French themed day.
Year 4
We've been enjoying the sunshine this week. We have all been doing our best in our assessments this week and Miss Radford is very pleased with us. They will help her tell Miss Riches what we are fabulous at and what we need a little more learning time on. In PE we were doing athletics with events like long jump, 50 m race, throwing and hurdles. We have been learning about the seven life processes and met Gareth who came in to help us. The seven life processes are MRS GREN – movement, respiration, sensitivity, growth, reproduction, excretion and nutrition. Plants move – but very slowly! For English we have been increasing our confidence with story writing. We have planned and started to write a story about what happens after the Trolls and Bogeys become friends. We have made posters to go up in the classroom to help us with our positive thoughts. This was part of our PHSE lesson on keeping our minds healthy.
(Scalet and Ava)
Year 5
What a lovely week it has been! We have thoroughly enjoyed this sunshine!
This week, we have started our science topic on evolution and looked at the difference between inherited characteristics and those that we acquire. In History, we have been learning about the Transatlantic Slave Trade, alongside out English unit on the text, Oh, Freedom! We learned about the horrendous conditions on the slave ships travelling from West Africa to the Americas as well as the goods that would have been traded by the British and Americans. In English, we wrote diary entries from our main character's point of view, recording the night that he first escaped the plantation with Peg Leg Joe and his family. Will they make it to freedom or will Jim Kniff, the overseer, catch up with them? In Computing, we continued our work on programming and coding using Scratch which was a lot of fun. We are looking forward to further developing this next week! Today, we celebrated a 'Journee Francaise' where we completed a range of activities allowing us the opportunity to explore the French culture and language further!
From Monday, we will be starting an extended transition for Year 5 therefore some of the morning lessons will be taught by Mrs Johnson and the afternoon lessons will be taught by myself.
Have a lovely weekend!
Year 6
What a beautiful sunny week it has been. This week, we have concluded our work on Kensuke's Kingdom and finished our Maths project on the bakery. The cupcakes were delicious, well-done Year 6!
In R.S.H.E we have recapped who we can go to for help and advice as well as talking through real-life problems and how we can approach them and support others if they are experiencing them. Yesterday, we enjoyed some additional French activities and we enjoyed listening to a well-known children's story in French. In Science, we have learnt about Carl Linnaeus and why is it important to classify animals in a universal way. Entrepreneur orders have been collated and poster making is underway.
From Monday, I will be starting an extended transition with Year 5. Therefore, Year 6 will be taught by Miss Riches in the mornings and myself in the afternoon.
Have a lovely weekend everyone!