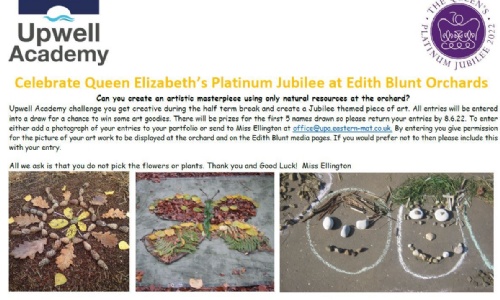 Celebrate Queen Elizabeth's Platinum Jubilee at Edith Blunt Orchards
Can you create an artistic masterpiece using only natural resources at the orchard?
Upwell Academy challenge you get creative during the half term break and create a Jubilee themed piece of art. All entries will be entered into a draw for a chance to win some art goodies. There will be prizes for the first 5 names drawn so please return your entries by 8.6.22. To enter either add a photograph of your entries to your portfolio or send to Miss Ellington at office@upa.eastern-mat.co.uk. By entering you give permission for the picture of your art work to be displayed at the orchard and on the Edith Blunt media pages. If you would prefer not to then please include this with your entry.
All we ask is that you do not pick the flowers or plants. Thank you and Good Luck! Miss Ellington
Please enter some content for your news story here.