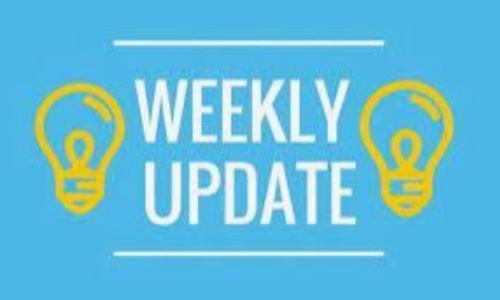 Weekly Update 4th March 2022
Year R
G'day, we have continued learning about the animals and landscape of Australia this week. We discovered a koala has an upside-down pouch and that Australia is on the other side of the world – we had to find it on a map. In English we have loved reading 'Wombat Stew' and we have started to write our own recipes for our own disgusting creations. In maths we have been learning about weight/mass and we have been estimating how many cubes might weigh the same as the object and we have also been trying to make the scales balance so they are equal in weight/mass. On Friday, we celebrated World Book Day by listening to all the teachers read their favourite description of a good or bad character and then we created some of our own. What an exciting week!
Year 1
Another busy week in Year 1. In Maths, we have been comparing numbers within 50 by using the greater or less than symbol. In English we have been working on reading comprehension by answering lots of questions about our non-chronological report about hedgehogs. We have also been looking at when to use full stops and question marks. In Science this week we looked at 6 different animal classes; mammals, amphibians, reptiles, birds, fish and insects. We looked into their features and then sorted animals into their groups. In PE we will be playing netball, so this week we were working on our throwing and catching. We had a lovely time celebrating World Book Day. It was lots of fun dressing up as goodies or baddies. We also wrote our own description of a good or bad character!
Year 2
This has been the most productive week in Year 2 so far! In Maths, we have been securing our knowledge of 2D shapes, drawing our own and comparing them tool. In guided reading we have been working on non-fiction information texts – retrieving facts and improving our speed of reading. We have also been looking at when and how to use inverted commas for speech. In History this week we have begun to explore the Vikings and learnt that these seafaring warriors–known as the Vikings or Norsemen ("Northmen")–began by raiding coastal sites, especially undefended monasteries, in the British Isles. In PE we played tennis, developing our throwing and catching skills before finishing with a game of dodgeball. We had an exciting time celebrating World Book Day today, everyone dressed superbly. It was lots of fun dressing up as goodies or baddies. We also wrote our own description of a good or bad character!
Year 3
We have had yet another really busy week, this week in Year 3. Our maths has been about comparing, ordering, adding and subtracting lengths. In English we have been reading limericks and then we have had a go at writing our own. In science we have started to look at how we can be healthy and what a healthy diet is. This has linked really well to the work that we are doing in PSHE about healthy routines. In art we have been taking a pencil for a walk, just like the artist Paul Klee. In French we have learnt the days of the week. We listened to parts of Symphony Number 6 by Beethoven and found out about his life in music. And today we are going to be busy doing some descriptive writing for World Book Day.
Year 4
Today we are all dressed up for World Book Day – we have TWO demon dentists! We have listened to the teachers reading an extract about a goodie or a baddie. We are now writing our own character descriptions. In science we have been experimenting with sound. We used a drum with rice on it, a cymbal, a triangle, a cup with an elastic band round it and a ruler off the table. We used these to see and hear vibrations. For maths we have been learning how to explain decimals in different ways. We have been planning and writing our own newspaper reports based on the Night Bus Hero in English. In art we are going to be making domes from salt dough. We all enjoyed swimming again this week. Our new class book is Gangster Granny Strikes Again. It is very funny!
(Juliet and Molly)
Year 5
This week, Year 5 have been learning about the features of suspense writing. For some inspiration, we watched the Titanium music video and discussed the ways in which suspense can be built. This song has been stuck in our heads all week now! For World Book Day, a lot of us had fun dressing up and we have been completing lots of fun activities and quizzes, as well as writing character descriptions for The Queen of Hearts from Alice in Wonderland. We enjoyed hearing the other teachers read extracts of stories for us to guess whether or not the character was a 'goodie' or a 'baddie'. In maths, we have been learning how to multiply fractions and mixed numbers by integers. Again, timetables were vital for this! We are almost ready to move on to decimals next week! In Geography, we learned all about the Alps and the discovery of Otzi the Ice Mummy which was very interesting! We were fascinated by the things that scientists were able to discover from his remains, even after all of this time!
Year 6
Welcome to the wizarding world of Year 6! We have thoroughly enjoyed delving deeper into the world of Harry Potter⚡. This week, we have learnt about the publishers, how important opening chapters are, focused on Hagrid as a character, written a howler and today we wrote 'terrifyingly good' character descriptions of 'He who must not be named!'. In Maths, this week we have been learning about metric measurements, identifying, converting and calculating with them. In PE, we had a very enjoyable game of Quidditch – thank you Miss Barker. In Science, have learnt about the different stages of life, when they will happen and what we could expect during them. In PSHE, we looked at self-control and the 'Chimp' in our brains that can cause us to act impulsively. We have also enjoyed watching the first part of Harry Potter and the Philosopher's Stone. Wow, what a busy week!
Please keep learning your key skills at home, I have set up a maths task and spelling task on Sumdog, please complete these before next Friday. Please also take the time to read at least 3 times at home and learn your weekly spellings.
Have a lovely weekend everyone, let's hope for a drier and sunnier week next week🤞.